WinLoan-32 Demo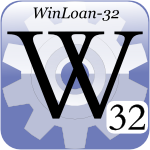 J. L. Sherman and Associates is confident that you will find WinLoan-32 to be the polished sales tool that others have told us it is, and as such, we are happy to provide you with a no-obligation demonstration of the latest version of WinLoan-32. Since this is a demonstration version, it does limit the user to a fixed interest rate of 10.123%.
As usual, our technical support staff is ready and able to help you with any questions, so please feel free to contact us any time.
Instructions for Installing the WinLoan-32 Demo
Download the WinLoan-32 Demo installer file attached at the bottom of this page. It is named winloan32demo_installer-version.exe, where version represents the quarterly release of the update, in the format of YEAR-MONTH-RELEASE#. As an example, if the filename is winloan32demo_installer-2009-07-0.exe, then this is the first July, 2009 release of the WinLoan-32 demo.

If you are prompted to "Open" or "Save" the file, choose the "Open" option.

Once the EXE file has been successfully downloaded, your operating system should run the installer.

Simply accept the defaults provided by the installer application, and the WinLoan-32 Demo will be installed in no time.

Once the installation process is complete, the WinLoan-32 Demo is installed and ready to run. To execute the demo, look under: Start Menu -> All Programs -> Sherman & Associates -> WinLoan-32 Demo.

If you have any problem with the above update procedure, please contact technical support.
Download demo verion here: winloan32demo_installer