Request a Demo Version of the SCEX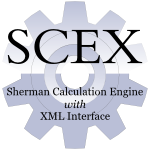 If you are interested in obtaining a demonstration version of the SCEX to investigate, we would be happy make one available to you. Please contact our sales team to discuss the possibility of partnering with J. L. Sherman & Associates, and request a demo version of the SCEX.
At J. L. Sherman & Associates, we consider our partnerships to be long term relationships, and as with any long term relationship, it works best when both parties succeed together in a true win-win solution. We are confident that with your help, we can put together such a solution for both of us.