APR Calculation Software for Payday Lenders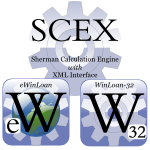 Within the past few years, the lending market has seen explosive growth in the number of payday lenders. Their short term small loans often result in APR values in the hundreds of percent. Calculating an APR value in compliance with Regulation Z for this type of loan is far more difficult than for more typical installment loans.
Over the past couple of years, we have received numerous inquiries from payday lenders requesting assistance with the APR calculations that their loan origination systems have produced. Our team at J. L. Sherman and Associates has been able to provide that assistance through consultation and licensing of our lending software products.
Payday Lending and the APR Problem
The problem facing payday lenders when disclosing the APR can be divided into two parts: (1) the disclosure requirements specified in Regulation Z, and (2) the special types of loans which payday lenders provide:
Regulation Z dictates that the disclosed APR for a regular loan must be within 1/8% of the true APR. For an irregular loan, that margin of tolerance is increased to 1/4%. If the disclosed APR falls outside of the applicable error margin, then the disclosed loan is not in compliance with Regulation Z.

In 1981, when the current version of Regulation Z went into effect, a loan carrying an interest rate of 15% was considered a high-rate loan. At that time, payday lending was not nearly as prevalent and accessible as it is today.

A payday loan is typically a very short-term loan for a very small amount of money. Consider a loan of $200, to be paid back in two weeks, along with a fee to the lender of $20.00. Most people would consider the $20.00 fee to be reasonable when considering the time and cost of the paperwork involved in writing the loan, along with the risk of non-payment. The $20.00 fee is an effective interest rate of 10% for two weeks which, for the 26 two-week periods in a year, results in an APR of 260%!
When you combine the tolerances specified in Regulation Z (point #1 above) with the typical payday loan APR of 250% or more (point #2), one can see that the leeway allowed in Regulation Z becomes a much smaller percentage of the APR than for a typical high-rate loan when Regulation Z was first passed as law.
This is exactly where the payday lending APR problem lies. In short, Regulation Z places a much greater burden on the accuracy of the calculation tools used to compute the APR, since the leeway allowed for compliance is a much smaller fraction for payday loans than that of other standard consumer loans. In our examples above, a leeway of 1/8% of 15% is one part in 120, whereas a leeway of 1/8% of 260% requires an accuracy of one part in 2,008 — requiring 17 times the precision to be in compliance!
Our Calculation Engine Solves the APR Problem
The Sherman Calculation Engine with XML interface (SCEX) is employed by three of the top four banks and many of the top loan origination software companies in the industry.
The SCEX APR Calculation Module computes APR values accurate to 1/1000 of one percent — or if desired, to an even greater accuracy. Additionally, the calculated APR value is compared to values with the least significant decimal incremented and decremented by 1. The corresponding larger errors in magnitude from perfect balance in the defining equation for APR those values produce, proves the correctness of the calculated result. The following output from the WinLoan-32 illustrates this concept (please note the Error Analysis section on the bottom left column):
RegZAPR Summary

Calculation Analysis
WinLoan32
Tuesday, March 19, 2013 - 12:00 PM

RegZAPR Data
RegZ APR
254.042
Method
Actuarial
Unit Period
1_Month
Periods Per Year
12
Loan Type
Regular Loan
Error Analysis
Error at 254.043%
0.0002497
Error at 254.042%
0.0000037
Error at 254.041%
-0.0002424

Advances
# of Advances
1
Total of Advances
$200.00
Advance
$200.00 on 03/14/2013
Payments
# of Payments
3
Total of Payments
$285.00
Pmt Stream
3 of $95.00 on 04/10/2013

WinLoan-32 v2013.01.0
If you are seeking a way to provide absolutely accurate loan calculations and APR disclosures for all of the loans you offer, the SCEX is your solution. Just embed the SCEX into your software and all of the calculations needed for any and all loan types you may need will be handled correctly. If your concern is only with APR calculations, then we can offer you the SCEX - Compliance, which will calculate the APRs from payments computed elsewhere.
Our partner directory shows a partial list of the loan origination software providers and lending institutions that rely directly on Sherman loan calculation engines for totally accurate calculations and disclosures. We would be honored to answer any questions and discuss your needs with you. Please contact us with any questions regarding the SCEX or any of our other products.