SCEX Now Supported on 64-bit Platforms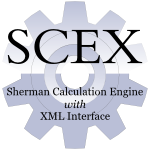 We are pleased to announce the general availability of the SCEX for the 64-bit Windows and Linux platforms. This means that our industry leading loan calculation engine is now supported natively on four platforms: 32/64 bit Windows and 32/64 bit Linux. Of course, should your application operate on a different platform, the power and flexibility of the SCEX can be made available to it via the SCEX Loan Server.
The transition to 64-bit computing has accelerated rapidly over the last year, as the price of RAM continues to decrease and the operating systems which our computers use require 64-bit code to access all of it. Figures published by Microsoft indicate that nearly half of Windows 7 installations - 46 percent - are using the 64-bit version. While 32-bit applications can (and do) run without a problem under 64-bit Windows, some of our partners have expressed an interest is a native 64-bit version of the SCEX as they plan for the migration of their own 32-bit applications to the 64-bit environment.
If you are looking for a better way to manage the loan and payment protection calculations or your platform system, or for software you provide to your clients, please contact us. We are confident you will find partnering with Sherman & Associates, Inc. is the better way to go.