The New SCEX Loan Builder Module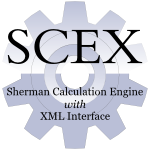 The SCEX is the calculation engine that not only is the preferred choice of the major Loan Origination Software (LOS) companies in the consumer / commercial lending space, but is also the foundation of our desktop and internet loan calculation products, WinLoan-32 and eWinLoan. Enhancements start with the SCEX and then flow into WinLoan-32 and eWinLoan as we adapt their user interfaces to accept the changes. Most enhancements are subtle and unnoticed by all but a few, but every so often, we make an enhancement that moves the SCEX significantly forward. Our new Commercial Loan module is such an enhancement.
The design of our loan builder module allows the user to drop data from any of the four categories below onto a timeline.
Advances, preceding or within the payment stream.

Interest Events, such as rate changes, or changes in accrual methods.

Payment streams of any periodicity, time wise regular or irregular

Fees
Payment streams can include calculated principal plus interest payments, interest-only payments, interest with a specified principal reduction amount, pure principal reduction, skips, as well as specified total payment amounts, all in any order throughout the loan.
Any combination of interest rates, accrual methods, payment types, fees or payments may be specified, providing maximum flexibility to compute virtually any loan imaginable.
Our many SCEX partners are our market research laboratory. So it is not surprising that this latest enhancement began with a request from one of our partners, whose clients had requested maximum flexibility for their commercial loans, and our realization that this enhancement could be of general benefit for all our partners.
If you are looking for a better way to manage the loan and payment protection calculations for your clients, please contact us. We are confident you will find partnering with Sherman & Associates, Inc. is the better way to go.