New Partnership with Compliance Systems, Inc.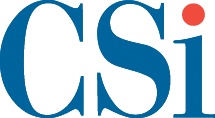 Compliance Systems, Inc. (CSi) is a provider of best-in-class financial transaction technology and expertise that allows financial institutions across the United States to compliantly document financial transactions. CSi solutions include Deposit, Consumer (including Home Equity) and Commercial Lending, Mortgage Lending, Individual Retirement Accounts, and Health Savings Accounts lines of business. CSi specializes in analyzing the data around these transactions resulting in documentation that mitigates risks thus allowing institutions to better target resources on activities that help their bottom line.
"While preparing a solution to support the TILA RESPA Integrated Disclosure Rule, CSi sought input from our partners and clients as to the best loan calculation engine in the industry. After researching many options, CSi chose Sherman and Associates not only for the quality of their calculation engine but also because of their approach to partnering and client support. CSi is excited about the partnership and looks forward to the continued success of the solution."

– Chris Appie, Vice President and Counsel
We are very pleased to welcome CSi to our family of SCEX partners, and especially pleased that we were recommended to CSi by our partners and clients. It shows also that the twin virtues of the finest calculation functionality and the superior support provided to our partners continue to be a winning combination.