More Enhancements to the SCEX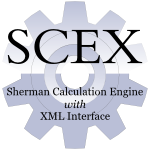 Actually, there's quite a bit that's new to report. We are continually enhancing the SCEX (Sherman Calculation Engine with XML Interface). Our partners, who employ the SCEX to provide the loan calculation portion of their software, are usually the first to experience the expanded capabilities. Their clients, through requests for specific calculations to precisely match their back-end systems, are the primary sources for these enhancements. A specific request may come from just one lender, but all users of our engine benefit, as new versions of the engine are sent to all partners.
While the SCEX is recognized as the most robust loan calculation engine available, there is no such thing as software that will always match the virtually infinite number of calculation methods employed across all lenders. Consequently, enhancements are an everyday part of support we provide, enabling our partners to promise that their origination software will precisely match their clients' internal systems.
So, we thought we'd share with all of you some of the enhancements we have made to the SCEX in just the past few months.
ARM loans - We've added new interest accrual methods, more options on "odd days", and irregular final payments.

Irregular loan schedules - Our programmers have added the option for interest-only payments to precede irregular payments within the same loan.

Construction loan calculations - Additional options including interest accrual methods, odd days treatment, allowed loan terms, and others have been added.

Balloon loans in the "Canadian Rollover" category - Another method for balloon loans defined by long-term amortization with short-term call is now included.

There is a new payment rounding option based on best amortization. APR calculations and MOB calculations - These both have additional setup options now.

New development tool - An additional development tool to aid our partners in testing engine results is now included.
If you offer origination software to the lending market, and your clients demand totally accurate calculations for all their loan structures and debt protection calculations, incorporating the SCEX into your software can be the most cost-effective solution you can find. Contact us to discuss further.