eWinLoan - Redesigned and Ready!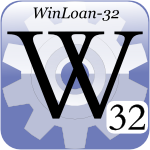 Our newly redesigned eWinLoan is now finished and ready for delivery.
eWinLoan, J. L. Sherman and Associates' Internet loan quotation system, is built on the industry standard Sherman Calculation Engine (SCE). The SCE is the choice of loan origination software providers throughout the industry. Why settle for anything less powerful or flexible in your loan quotation software?
Earlier this year, the Sherman development team decided to upgrade our flagship Internet loan quotation software using modern web application design and client based scripting languages. The goal was to make eWinLoan look and feel more like a standard desktop application. Working with input from several of our customers, we believe that we have succeeded.
eWinLoan has been developed with the following two target groups firmly in mind: credit insurance companies and banks wanting to offer a thin client, platform-independent loan quotation tool over a wide area network.
For Credit Insurance Companies, eWinLoan offers one flexible loan quotation tool that your clients throughout the country can use. All of your client's specific settings are stored in individual setup files customized for each client alone. Every client's setup file produces loans matching their interest accrual method and loan structures, all the while supporting your insurance or debt protection products. Clients are then able to quote loans and print disclosures, amortization schedules, and insurance certificates. When a change is required for a particular state or product, Sherman and Associates will send new setup files to you and your clients will have to do absolutely nothing!
For banks, eWinLoan offers a platform-independent, thin client solution. Your information services team simply installs eWinLoan on one Windows IIS server, and all of your loan officers are then able to quote loans, print out disclosures and amortization schedules, and use the full functionality of the software. Should insurance rates or loan parameters change, the setup files (maintained by Sherman and Associates) need only to be updated in a single location.
To work with a demo version of the upgraded eWinLoan, click here. Once you are there you'll see we offer two accounts to sample: Bank One with Debt Protection and Bank Two with Credit Insurance. Also, notice our surfing beach across the top of the screen. This area can be customized with your own graphics/logo. Please note that the demo version is fully functional, with the exception that the interest rate is fixed at 10.123%.*
For more details or to discuss pricing, please contact us.
Demo Version Restrictions: 1) Loan interest rates are fixed at 10.123, 2) Roll to rate requests are returned as equal payment loans w/ rate=10.123, 3) Refunds have all input premiums fixed at $1,000, 4) IRA & CD rates fixed at 10.123%.