Construction Loans Now Available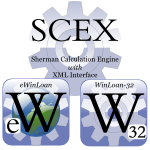 As the provider of the most robust and complete loan quotation software available, we're once again lengthening our lead on the competition.
At the request of one of our strategic software partners, we've added construction loan capabilities to our Sherman Calculation Engine (SCEX), broadening the already wide scope of loan structures offered. Because the SCE is the calculation heart of our WinLoan-32 and eWinLoan, these new construction loan types also become available to everyone using eWinLoan and WinLoan-32. Of course, the loan calculations are in compliance with the special construction loan disclosure requirements set forth in Regulation Z.
By using a "shared engine" type of structure in our products, when we make an upgrade for one customer we are able to offer it to all other users of those programs.
For more information about construction loans or any of our loan quotation tools, contact us.