Announcing the SCE API Server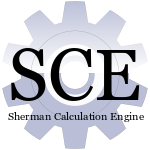 The Sherman Calculation Engine API Server (SCE API Server) is the software solution that makes Sherman's extensive expertise in the mathematics of lending part of your own software.
The SCE API Server is implemented as a microservice, and is either deployed by your devops team as a Docker container in your local and cloud environments or we can host it for you using AWS. Both methods expose the SCE through a HTTP REST API, which allows any team to begin using the SCE immediately - no development work is required to begin receiving results from the SCE.
The format of the data sent in the POST request can be JSON or XML, depending upon the functionality required and your development team's preferences.
For further information on the SCE API Server, please see see the assosciated product pages. If you have questions, implementation concers, or would like to evaluate a demo version of the SCE API Server, please contact us.