Announcing a New Partnership with FIS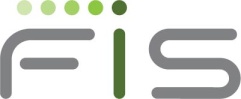 We are pleased to announce that Fidelity Information Services, now FIS, has chosen J. L. Sherman & Associates as their exclusive partner for the loan and insurance calculations in their FIS Loan Origination (FLO) service. FIS will be using the Sherman Calculation Engine with XML Interface (SCEX) to drive the calculations in FLO.
FIS provides their FIS Loan Origination (FLO) service to a wide range of domestic banks and thrifts seeking automation to originate commercial and consumer loans. FLO is a browser based solution that provides a wide range of LOS functionality including warranted document selection, flexible IntelleDoc technology, and 3rd party interfaces all coupled with seamless core integration.
"SCEX provides us with a single calculation engine to support complex repayments for Commercial, Consumer and Mortgage Loans. This includes skip payments, irregular payments, and construction to permanent loans all available with insurance protections our customers demand. Sherman's support and assistance are world class. Integration and deployment was seamless."

– Ronny Chapman, FLO Product Manager
We very much appreciate Ronny's comments. FIS joins a list of Loan Origination Software partners comprising the major LOS providers across the consumer loan market, who have selected Sherman & Associates for our loan and insurance calculation expertise and support. Loan and payment protection calculations are our special niche in the lending market. It's what we do. It's all that we do, and we believe we do it better than any other company.
If you are looking for a better way to manage the loan and payment protection calculations you provide to your clients, please contact us at (800) 776-6651. We are confident you will find partnering with Sherman & Associates, Inc. is the better way to go.