Announcement of Partnership with IAC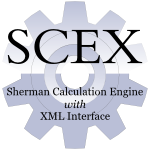 IAC has selected the SCEX to supply all of the loan, insurance, and debt protection calculations for IAC's new software, FourPoint. We are very pleased to announce a new partnership with one of our long time customers, Individual Assurance Company (IAC). Our Sherman Calculation Engine with XML interface (SCEX) will now supply all of the loan, insurance, and debt protection calculations for IAC's new software. The IAC software will work beside lenders' systems to promote and process the sale of credit insurance (whether single premium or MOB) and debt protection products. From the initial quote, through the monthly collection, reconciliation, and reporting processes, the IAC software will help generate increased fee income for lenders. With our SCEX at the front end of the IAC software, IAC's clients are assured of accurate calculations and disclosures for all of their loan, insurance, and debt protection products.
IAC has been an excellent Sherman customer for many years. Originally we supplied handheld computers, programmed with IAC's credit insurance methods, to many of their accounts. As more of their lenders acquired PC's, IAC began providing our WinLoan-16 software, then migrated to the later generation WinLoan-32 and eWinLoan products, always assuring that their clients would have the finest sales tools with guaranteed accuracy and compliance in all quotations and disclosures. The new IAC software offers a complete marketing solution to their clients, for both monthly pay insurance and debt protection products. We are honored and pleased that IAC's confidence in Sherman and Associates has resulted in this new partnership.
If you are considering, or even already, providing loan origination software to your customer base, Sherman and Associates can free you from the constant modifications that credit insurance and debt protection changes continually require. Join IAC on the list of companies who rely on Sherman and Associates' calculation engine, and our unparalleled customer support. Contact us to find out how we can help you, too.
If you would like to learn more about IAC's software, please contact IAC at (800) 821-5434 or e-mail them at info@iac-group.com.